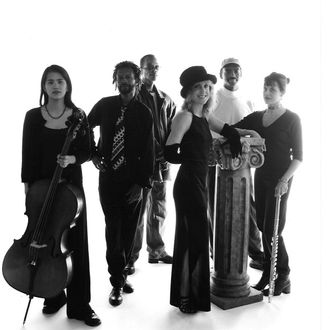 Music Dish
Michael Allison
COPUS is a musical group with some of the most talented musicians that I have yet come across. The music is a mixture of Spoken Word, jazz, a touch of blues and a hint of classical styles. This music is a little difficult to compare to anyone else because I have never really heard anyone like this group. The jazz styles are very complex and the music that is created is absolutely masterful. These compositions are amazing with just the music, but then you get the added pleasure of the smooth spoken word vocal styles of Royal Kent.
His poetic onslaught of powerful lyrics are mind boggling, to say the least. His silky smooth voice holds a tight grip on the listener's ear and keeps them in a state of mind numbing ecstasy. The musical virtuosity of the members in this group is absolutely amazing. Having this much talent in one band should be a crime.
The music develops into a sort of scenic painting in your mind as it is played. The warmth and soul of the musicians is almost seamlessly produced throughout the entire album. This is musicianship and songwriting at its best. I don't have to tell you how impressed I am at the talent and musical excellence that is portrayed here. This is new music for the new millennium. I also recommend this be one of the first choices for Spoken Word Album of the Year.
Personal Notes: I never considered myself a fan of spoken word styles of jazz. Although I have always been a jazz fan, the spoken word aspect was never one of my favorites. This band has definitely changed that perspective. I was surprised at how much I liked this music.
There is something about it that makes me want to hear it more. I'm not sure if it's the music or the lyrics or the vocals. I only know that it's there and it is definitely alluring. It is my belief that this music could be legendary if given the opportunity to thrive.
I've heard the buzz about this style, but never thought much of it until I heard the music. Now you need to hear it, whoever YOU are. The worst that could happen is that you broaden your horizons and find yourself really loving a style of music that you might not have known about before. If you are already one of those who like the spoken word style, then this is a group well worth checking out. This is one band that I am really happy to have as a part of my music community.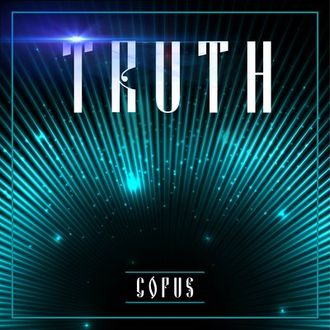 Clouzine Magazine
Joe Kidd
Brothers and Sisters,
This one goes out to all of you who claim to seek Truth. Gather 'round, rush the stage, rise up, and claim your inheritance.  Listen to this!  We have found another nugget, another source, another proof that Truth does exist.  It comes in the incarnation of a band called COPUS (Creation Of Peace Under Stars).
Now look upward and be inspired.  When we think of Jazz, we think of communion of souls merging as one force to create one sound, the music of the spheres, the ever-present everlasting Om.  When we think of Hip Hop, we think of free form poetry, mature and muscular, intelligent and timeless.  If we are able, we may imagine what could happen when those two realities come together.  This is where COPUS lives.
When I hear this song for the first time, I immediately thought "West Coast" where the green grass, the hot desert, the majestic mountains and the great ocean form the landscape -  where diverse cultures exist, not only side by side, but intertwined.
COPUS is an offspring of these influences.  Together they incite a revolution of thought, with the focus on outcome and results.  They expressed a unique knowledge of the world as a community, often in need, but not without resource and possibility.  This is street music, street poetry reminiscent of prophets like Gil Scott-Heron and The Last Poets.  I hear the beat poets of NYC, and the great jazz artists of the 1960s.  
COPUS comes to us with music that is solidly constructed to withstand the weight of the heavy rhymes.  Rhymes of liberation, rhymes of activism, rhymes of consequence.  In the critical and historic days that we currently find ourselves thrust into, it is essential that we have artists with wisdom that we can trust.  It is crucial that our poets and musicians intend to find the ways and means to inform us and direct us to the Truth.  That is what this track and this groups is all about.  
COPUS is a world-class organization with a catalog of important material.  They have recently received the Clouzine Magazine Award for Best Spoken Word Group.  To find out why, you are invited to visit them at their official website. https://copus.bandcamp.com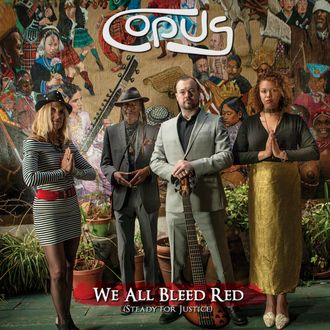 Sleeping Bag Studios
JER
Copus – "We All Bleed Red" – Single Review 
And the message read simply:  "Greetings!  We are Copus from San Francisco CA.  Copus is an acronym for Creation Of Peace Under Stars" – that was all it took for me to be interested in what I might hear from this new four-piece band…I dig that kind of sentiment for sure.  But there you have it, in print for all to see; their acronymic name is also a blueprint of the mission they're on.  Through the new single "We All Bleed Red" you get the full picture of their ambition as they look to help heal the growing divide between the people and remind us of the values that are most important in this world we share. 
So…ambition and intent are fantastic things to have and certainly something I'd always love to support – but how does this song really come out?  It's gotta be impossible to bag on a song that is doing its best to create social awareness, peace and unity right?  I mean…I agree…it would be tough to do; thankfully I don't have to worry about that today with the lively, unique & inspired performance from Copus. 
Through ace musicianship and a wild, bright & bold sound, they capture the magic they're seeking to create on "We All Bleed Red" – it's like a combination of Quincy Jones meets Baz Luhrmann…theatrical & dramatic in nature with great storytelling, set in an old-school setting that incorporates modern-day movement in the structure and reflecting on the current state of the world lyrically.  It's really not a typical tune in any sense of the imagination…in my heart-of-hearts I know this overall style/sound is a tougher sell to the people than most…but the message Copus is spreading through their words is one that people are ready to hear, receive and respond to more than ever before. 
It took me a couple spins to really adjust to the uniqueness in this project…there's no doubt that it's much different from what you'll typically find out there right now; but just like you can't express full-thoughts in only 140 characters…sometimes it takes more time for a strong idea to fully sink in.  "We All Bleed Red" essentially gives you as much for your brain to chew on musically as it does through the lyricism. 
What I think it'll come down to is the response to the main lead-vocals…that's the polarizing element of the song.  At first I wasn't quite sure of them myself…both the tone and the way the words wound themselves around the bars…but the more I listened to the words themselves, I came to appreciate the way he delivers the message of this tune.  The lyrics are well thought-out and in my opinion, as accurate as can possibly be; this is mobilization music for the resistance and a call for us all to stand up for our collective rights as human beings on a shared planet – "We All Bleed Red." 
At the end of the day, I ended up really enjoying the lead-vocals…it took some convincing at first, but eventually I felt like I came around to hear the style, passion and heart in the performance as it was intended to come across.  The lyrics are truly poetic and the lead-vocals are closer to a spoken-word performance when it comes right down to it – sometimes it takes a bit of an adjustment to fully get into artistic expressions like these. 
For me…I'm a poetry guy and definitely on the side of equality for all…I suppose it was only natural that within a couple of spins, I got right into "We All Bleed Red" – but I think most people would come to love this song from one angle or another.  Hard tune not to love…well played Copus, well played. 
Because regardless of how you react & respond to the lead-vocals, I'm convinced you'd connect to the words themselves and everything surrounding them quickly enough to keep you listening and repeating the experience.  The female-driven chorus-hook of this song is VIBRANT and sounds absolutely electric in her tone and approach, giving the song a really unique texture added into the overall idea and sound.  As far as the musicianship goes…get out of here…unless you really want to sit here all day long and read a story about a band getting everything RIGHT from every angle, you're best to correctly assume that Copus has indeed brought their A-game. 
I'd honestly be willing to bet Copus is a band comprised of a core of studio-musicians and songwriters…it's no accident that this song's ambition in its message is matched perfectly by the expressive talents in the music. 
You can easily identify killer instrumentation happening in the rhythm section through the rhythm in the drums and intense grooves of the bass…they're crushin' it; the keyboard-piano parts drive the melody with bright, empowered & inspired tones alongside'em.  Combine that with the two completely different styles, sounds and approaches to the vocals on "We All Bleed Red," and you really have a song that's seriously compelling to listen to.  It stands out…it truly, truly does…I have the feeling this is a song I'll completely remember. 
And just in case there are ANY doubters out there…listen to the way they exit this tune!  The professionalism & precision is stunning – perhaps the most impressive moment in the instrumentation actually comes right in the final ten-seconds or so!  The transitions have been rock-solid all the way through the song as Copus moved through the structure and storyline of "We All Bleed Red" – but that ending…ohhhhhh that ending is a glorious one!  You can almost picture it live…those final ten-seconds and then just completely cut the lights as it finishes on its ultra-conclusive and decisive ending.