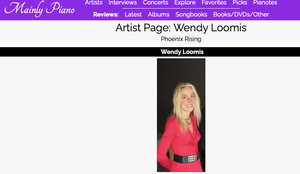 MAINLY PIANO - Kathy Parsons   
High Tech, High Touch 
High Tech, High Touch is a 2-EP collection of original compositions by Bay Area composer/pianist/ producer/ educator, Wendy Loomis. The High Touch disc is eight original piano solos and High Tech is eight works for synthesizers (and a few guest artists). Reading Wendy Loomis' bio and the information on her website is amazing. There isn't much in the music field that she hasn't done, and her current activities include this album, teaching in her home studio in San Francisco, composing for and playing with spoken word jazz band COPUS, composing for film, and the list goes on. She was the composer/pianist of piano/flute duo, Phoenix Rising, and has won the ASCAP award for composition four times. HighTech, High Touch is Wendy Loomis' seventeenth album and is very likely to be one of my Favorites of 2018. 
The two 32-minute discs are very different from each other, and I certainly wouldn't have guessed they were by the same artist, but the quality of the music, the recording and production are all top notch and provide a superlative showcase for Wendy Loomis' versatility as a composer and musician. 
The High Tech disc begins with "Omar Sosa," an ambient/electronic tribute to the brilliant Cuban musician that it's named for. The infectious beat will have you tapping your toes in no time! "Cassiopeia" was co-created with Jerry Gerber (soft synth) and Michele Walther (violin) and is high energy as well as high tech! The soulful violin is a fascinating contrast to the driving beat of the synths, and yet they work together perfectly. "Birthday Beat" is rather dark and mysterious, but the percussion keeps it lively and moving forward - another very interesting set of contrasting sounds! "Synchronicity" includes Monica Williams on pan flute in addition to the more playful synths and percussion - a favorite. "Apogee" is more fluid and ethereal, but the dark, steady drum and hand claps keep it grounded - I really like this one, too! Gerber and Walther return in "Pleiades" as co-composers and instrumentalists. High energy, exotic and very rhythmic, this one just about dances right out of the CD player! Love it! 
Okay, now that I've gushed about the electronic disc, let me tell you about the High Touch solo piano disc that I REALLY like! I love all eight of these piano solos and really hope Loomis will offer the sheet music sometime. "Cumulus Cloud" is very free and impressionistic, floating on air and moving gracefully when and where it wishes - very soothing and transporting. "Julio" is dark and passionate with a Latin rhythm and a haunting melody. And then there is "You're Too Sensitive"! I cannot get enough of this wonderful minor key waltz! In addition to the powerful main theme, there are a few lighter themes that seem to tell a story. I can't seem to listen to this one without hitting the replay button at least once! "Nagano Reflection" is elegant with a gentle Asian feel - beautiful! The dramatic "Safe Travel" expresses a sense of urgency as well as movement. "One Snowy Night" reminds me a bit of Erik Satie in places - simple and uncluttered, but very evocative. Another favorite! The album comes to a close with "Eternity," a slowly-flowing "song without words" that comes from the heart. 
High Tech, High Touch will not be easy to categorize come awards season, but it should be in line for a whole bunch of awards! It is available from www.WendyLoomis.com, Amazon, iTunes and CD Baby. Very highly recommended! 

ONE WORLD MUSIC - Steve Sheppard    
If you're looking for something very unique, something refreshing and breathtakingly sublime, then you need to look no further that the new release by Wendy Loomis entitled High Tech, High Touch. This offering is actually a double CD release and gives us two styles of music created by the artist to roam within. High Tech is Loomis on synths and percussion with an array of other fine artists who join her to bring us some of the most inventive EM we may have heard for some time, like the Berlin styled track Cassiopeia and the full flowing and quite deep arrangement Apogee. 
High Tech is an intelligent and well thought out collection of arrangements, which contain a myriad of added instrumentation, a big tip of the hat goes to Michele Walther for her work on violin on the aforementioned Cassiopeia and my personal favourite Pleiades. 
Disc two takes us to a totally different musical dimension, as High Touch is brimmed to the top with utterly sublime solo piano recordings and contains my favourite track of all called Cumulus Cloud. This particular piece is one of the finest compositions I have heard in this genre for years, empowering and inspiring; the use of minor chord structures in the narrative is nothing more than genius. 
On Romantic Hearts Loomis creates a retrospective feeling and one could easily be forgiven for thinking we were back to the early years of artists like George Winston and Scott Cossu. The ambience of Nagano Reflection was both moving and creative, while the artistic flair in the confident last offering of Eternity was simply the perfect way to leave the project, and performed with such a high level of professionalism it was a delight to be able to be a part of its tone created dimension. 
High Tech, High Touch is a double cd of pure class and one I personally could listen to for hours. There are eight tracks on each album, and all of them produced with a pristine quality of sound and technique. This is an album that has really freshened up the multi genres of the new age music industry and one that I completely recommend without hesitation.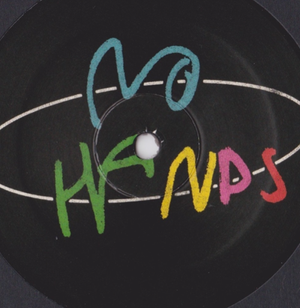 NO HANDS RECORDS - Kelley Dolan 
WENDY LOOMIS 
"Artistic director, pianist and composer Wendy Loomis paints with a broad palette of jazz, classical, new age, avant garde and world colors, fusing styles ranging from Debussy to Thelonius Monk. Her dynamic performance at the piano throughout 'Later Than You Think' by turns floats through the soundscape, supports the other instrumentalists, vamps under poet Royal's voice, then drives the ensemble with funky rhythms and jabbing, percussive chords."